With the cold weather setting in, and days of rain keeping us locked inside, it is easy to succumb to the tastes of sweet sugary drinks, and heavy comfort foods.
But rather than another mug of hot coffee with the obligatory Tim Tam Slam. Why not try your hand at some of your own home brews using one of nature's precious gifts, flowers.
Lavender contains polyphenols, a type of antioxidant linked in the prevention of heart disease, cancer, and osteoporosis. If it is steeped too long, Lavender can sometimes have a potent taste, so try not to leave it too long. As Lavender's perfume (and taste) are so strong, it does tend to polarise people; you will find people either love it or hate it.
Lavender Tea (Via Fresh Bites Daily)
Ingredients:
3 cups of hot water
One handful of fresh lemon balm. (Substitute with a couple of tea bags.)
Two tablespoons fresh or dried lavender flowers.
Honey to sweeten (optional)
Method:
Bring water to boil.

Pour boiling water over lemon balm and lavender (if you are using dried or fresh lavender).

Cover and let steep for about five minutes.
Add honey to taste.
I found this interesting recipe for a Rosy Black Tea via Nourishing Simplicity, and I like it because I have always enjoyed the delicate flavour roses empart in food and beverages. It is super easy as all it requires is 2 parts rose petals to one part black tea- how easy is that!? And while this tea is perfect on its own, try it with a little milk and honey to take it to a whole new level.
You can make this tea in any quantity you like, so they suggest using 1/4 cup as your measurement and go from there. As it isn't heavy in 'tea' you can serve this to children, and it makes the perfect addition to any tea party.  If you have a good quality fragrant organic rose, you get that rose taste exactly as you smell it
PLUS roses have plenty of vitamin C and can help relieve water retention  and other forms of congestion in the digestive tract.
Ingredients:
2 parts rose petals
1 part black tea
Method:
Place the rose petals and black tea in a glass jar.
Shake until thoroughly mixed.
For a single serving place one teaspoon of tea in a strainer.
Put the strainer in your favorite mug and pour boiling water over the tea.
Let steep for no more than 5 minutes.
Remove the tea and enjoy.
Now with the cold weather upon us, it is likely that you or someone you know currently has a cold or flu
So why not try you hand at this natural cold remedy. It is always important to keep your fluids up when you are feeling under the weather, so any other benefits this delight bestows on you is a bonus!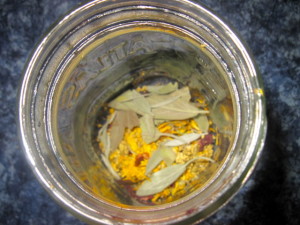 Cold Care Tea (via Studio Botanica)
Ingredients:
Calendula flowers
Sage leaves
Hibiscus flowers
Elderflowers
Boiling water
Honey to taste
Method:
Place a pinch of each ingredient into teapot. Boil water and add.
Place lid on pot.
Allow to steep 8-10 minutes.
Add honey to taste
Have any other flowers you like to use in cooking or beverage production? Drop us a line and let us know some of your personal favourites, we would love to hear from you.
I'm going to pop the kettle on now 😉
Fwf x